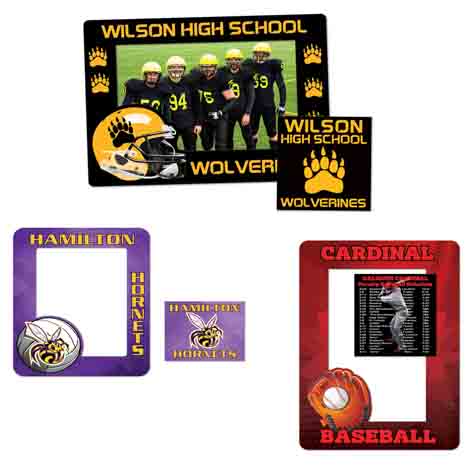 Digital four color process imprint only.
Holds photo on your refrigerator or other metal surface.
Includes magnet cut-out.
Printed on .020" magnetic material.
White covering & matte finish.
100 piece minimum same style/imprint.
Made in the USA.
Please scroll to bottom of the page for imprint information and charges. 

Set-Up Charges: Add $50.00. Reorder set-up charge add $25.00.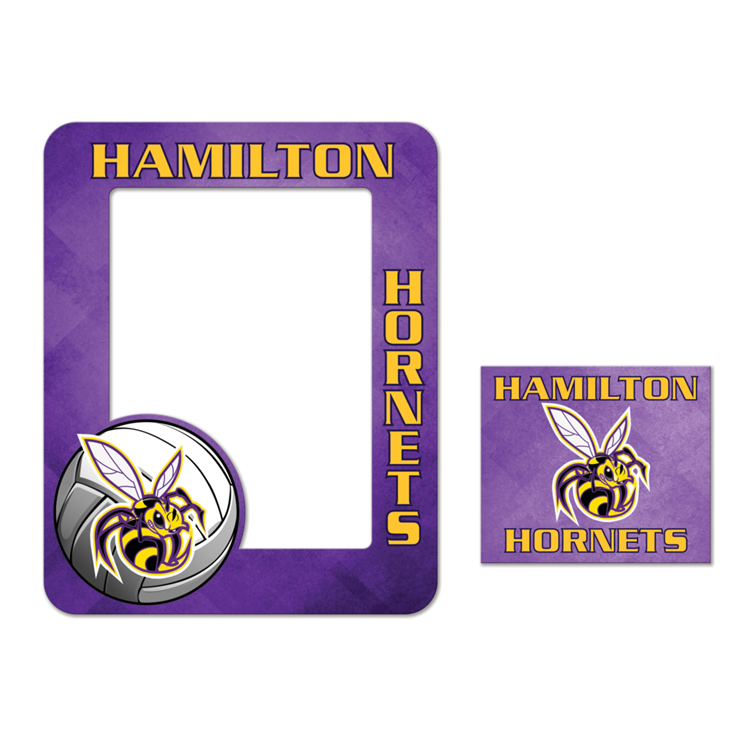 3" x 3 3/4" Picture Frame
Frame: 3" x 3 3/4"
Cut-Out Magnet: 1 3/4" x 1 1/2"
Fits: 2 1/4" x 3" Photo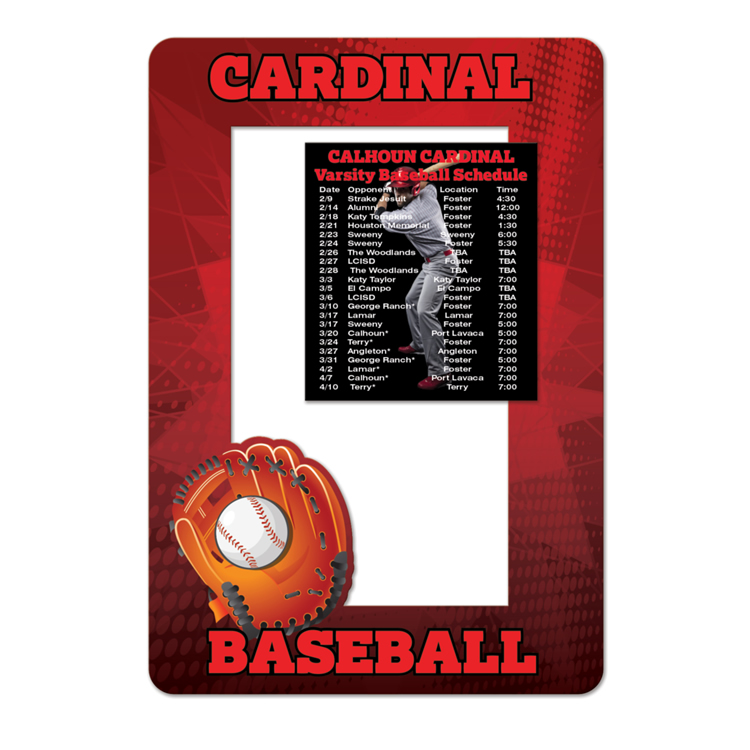 4 1/2" x 6 1/2" Picture Frame
Frame: 4 1/2" x 6 1/2"
Cut-Out Magnet: 2 1/4" x 21 1/2"
Fits: 3" x 5" Photo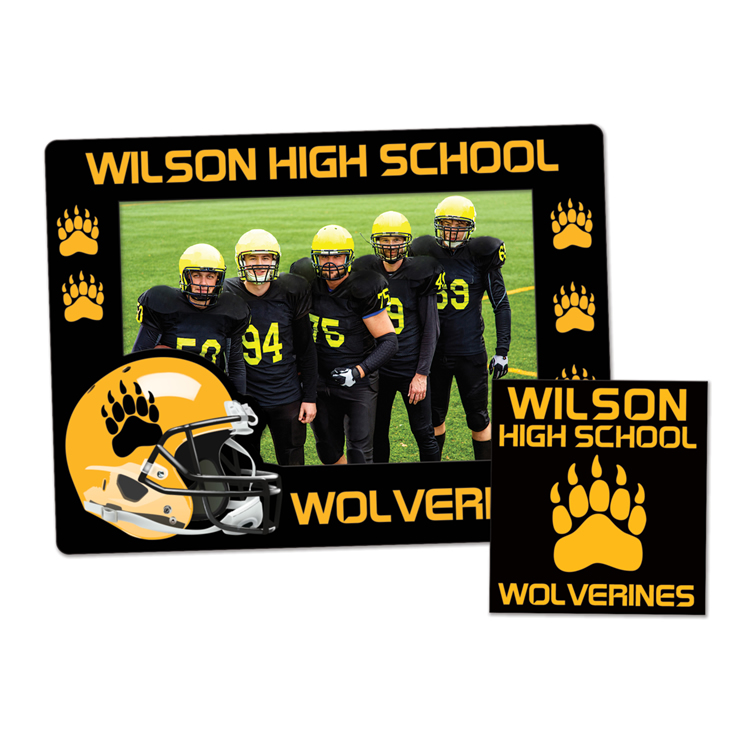 7.75" x 5.75" Picture Frame
Frame: 7 3/4" x 5 3/4"
Cut-Out Magnet: 3" x 3 1/2"
Fits: 4" x 6" Photo
Die Charge
Reorders of the same imprint will have a $25.00 charge.
If artwork is not camera-ready, an additional art charge of $62.50 per hour (half hour minimum, $31.25) will be added to your order.
Production schedules vary from 1-3 weeks depending on the time of year.  All orders are contingent on artwork approval.
Artwork must be submitted when order is placed.
Artwork Requirements: All artwork must be supplied in a digital format. There is a $15.00 (v) charge for art not submitted digitally. Fonts must be converted to outlines or curves. If converting the fonts is not possible, send the font file with the art. (Typically a *.ttf or *.otf file on a windows machine). All images submitted are printed as is and scaled as needed unless otherwise specified. It is your responsibility to have all images proofed and adjusted to your satisfaction before submission. Templates show cut lines and live areas. Items that are available in four color process include bleed lines.
Supported Software/File Format: Corel Draw up to X5 (*.cdr, *.eps), Photoshop (*.psd, *.pdf), Adobe Indesign (*.indd, *.pdf)
Preferred Software/File Format: Illustrator (*.ai, *.eps, *.pdf).
Art Email Address: custserv@pomexpress.com
Screen Printing: The direct imprinting of a design or copy onto the surface of a product. Ink is pressed through an imaged tension nylon mesh, leaving a paint-like appearance. Sharper imprint than Pad Printing but requires a relatively flat surface without obstructions. Artwork should be supplied in a vector format or be simple black and white images. For files that contain raster images, art charges will apply. Halftones are to be no more than 55 line screen at 100% with 25%-75% shading.
Digital Four Color Process: Process that recreates images using patterns of tiny dots of CMYK ink. Pantones or PMS colors will not be reproduced precisely but can be used as a reference for color matching. If a specific color is required, request color swatch samples. If pantone colors are used in the artwork they will be converted to CMYK colors and matched as closely as possible. Artwork can be in either vector or raster images. Artwork supplied in raster image format must be 300dpi at size or pixilation may occur. Text print sizes on all digital items can be no smaller than 10pt font. Samples can be requested of anything smaller than 12 pt to see if the requested text will print on the medium requested and for approval. Some PMS colors fall outside the achievable CMYK gamut range. Metallic and neon colors cannot be printed in 4 color process.
Reproduction of Artwork: Due to the textures and surfaces of products such as plastic balls, pennants and foam, it may not be possible to reproduce art with extremely sharp detail or with fine lines and halftones. Generally darker inks reproduce better on lighter surfaces or substrates. Please Note: due to the taper of stadium cups, sports balls, and megaphones, some artwork may appear distorted when printed.